Residential Electrical Services in Columbia, SC
The electrical system of a home has a lot of hidden components that can become a danger. While some homeowners attempt to take care of installations and repairs themselves, this is not recommended by the professionals. Learning about the Residential Electrical Services that are available from the professionals will help homeowners be prepared to take action. 
Signs of Electrical Problems
One of the first things homeowners need to know is the signs that can develop when there are electrical problems in a home. If a homeowner notices any of the following signs, they need to seek professionals for residential electrical services right away. Prompt electrical repairs are essential for the prevention of deadly shocks or fires. 
Strange odors will often develop when there is an electrical problem. Many homeowners only look for a burning smell, but electrical issues can also produce a fishy smell. 
If the breakers in a home are frequently tripping, it is time to call an electrician. Frequently tripped breakers often mean the electrical system is being overloaded. This issue can also stem from a faulty breaker that needs to be replaced. 
When outlets or switches are warm to the touch or sparking, they need to be repaired or replaced right away. While this may seem like a straightforward job, it is one that is best left to the professionals. 
The switches and outlets in a home should operate silently. If they are buzzing, this is a sign there are electrical problems that need to be addressed. If homeowners notice this sign, they need to call for residential electrical services in Columbia, SC. 
Flickering lights are also a sign of problems with an electrical system, especially if multiple lights in the home are flickering. Often, this is a signal of a circuit overload that needs to be addressed. 
Types of Electrical Services
When a homeowner needs electrician services in Columbia, SC, it is important they have access to professionals they can trust. The following offers information on some of the services electricians offer their residential customers. 
Electrical Repairs
One of the most essential services electricians offer is electrical repair. When the above issues are occurring, homeowners need to call for repairs right away. Waiting too long could put their families at risk. 
Electrical Upgrades
Homes that are older may need electrical upgrades to handle today's appliances and electronics. Upgrading the wiring and the circuit breaker box will allow homes to handle the greater demands of today's modern appliances. 
New Lighting & Fans
When homeowners want to install new lighting or ceiling fans, it is important they rely on professional electricians. Attempting DIY installs can lead to improper installations which can cause dangers in operation. These professionals will take care of every aspect of the install. 
Surge Protection
Installing a whole-house surge protector in a home is essential for the protection of the electrical system and all that is hooked up to it in each room. To ensure the install is carried out successfully, it is essential homeowners rely on professionals to ensure the work is carried out safely.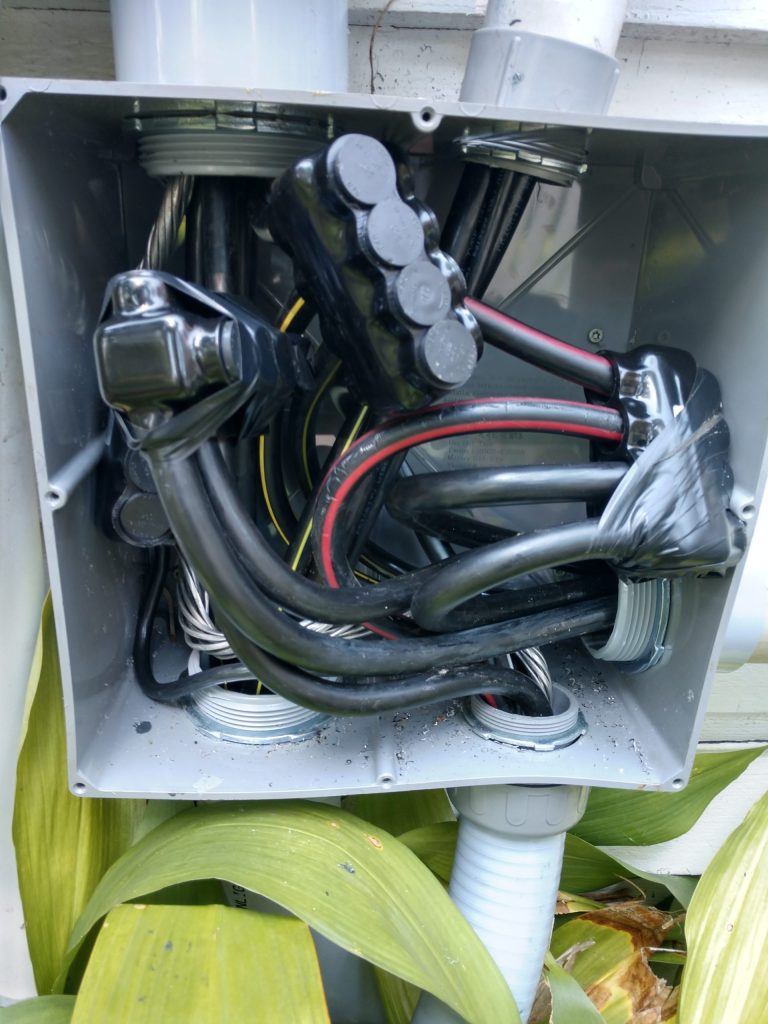 Electricians Also Take Care of New Installs
Whether a homeowner needs their new home wired or they are building a new addition, hiring an electrician is an important first step. Wiring and all electrical components must be installed according to code. If the work is not done correctly, the house or addition is likely not to pass inspection. 
These professionals take care of a wide array of electrical components and wiring installations. They can handle bathrooms, kitchens, garages, basements, bedrooms, and living rooms. They can also install wiring for outbuildings and poolhouses. Relying on these professionals ensures the work is done to specific standards. 
Replacing Federal Pacific Electric Panels
Federal Pacific electrical panels are a common source of fires for the homes that have one installed. If your house is the right age to have an FPE panel, or it had a panel installed between 1960 and 1990, go check your breaker box. You should be to see the "Federal Pacific Electric" name on the cover of the panel.  Open up the panel and look at the top of the rows of breakers to see if the word Stab-Lok is printed at the top. If you find this,  then you have a major fire hazard waiting to happen! . Some estimates indicate that these dangerous electrical panels cause around 2,800 fires and more than one dozen deaths each year. Contact Advanced Technology Electrical today to take care of this hazard in your home.
Do Not Take a DIY Approach
One of the biggest mistakes homeowners can make when they need electrical services is trying to do the work themselves. Without the right training, tools, and equipment, homeowners will often find themselves in over their heads because they are not prepared. 
Although it can be tempting to save a couple of dollars by taking a DIY approach, many homeowners regret this decision. Often, they end up causing problems with the electrical system that requires professional intervention and more expense to repair. Those who need help with their electrical services should call the professionals right away for expedient service that is guaranteed. 
We fix issues left by General contractors, DIYs,  or less knowledgeable electricians.  
Overhead and underground Service upgrades, new and repairs, 60, 100, 200, or 400 amp
Main panel upgrades and replacement, 100, 200, 400 amp, 120 or 240 volt
Install Sub panels and equipment disconnects 30, 60, 100 amp, and up 120 or 240 volt
Complete rewire, remodels, and additions
Run circuits for HVAC, pools, out builds, and sheds
Install whole house generators up to 22kW
Install or repair transfer switch up to 400 amps
Install portable generator outlets.
Install, replace , or upgrade light fixtures and ceiling fans
Install EV/car charging stations, level 1 or, 2
Install hard wired smoke detectors as required by code
Replace and repair switches and outlets.
Correct 3-way and 4-way switches
We do whole house switch and outlet replacement for home sales and property managers to make your house worth more. Maintenance program enables you to priority scheduling, emergency service at regular price
Advanced Technology Electrical is located in Columbia, SC, and has been in operation since 1998. They provide a wide array of electrical services, including those for repairs, installations, and inspections. They provide these services for homeowners, general contractors, and property managers in the Columbia, SC area.